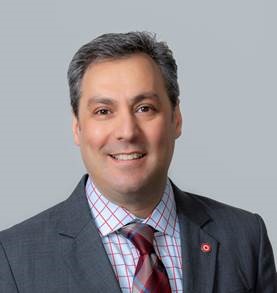 Paolo Fortugno
President 2020-2022
Benvenuti alla CIBPA!
Message from the President
Montreal, January 2021
Since 1949, the CIBPA's mandate has been to enable and foster our members' business and professional interests.
We serve as the voice of the Canadian-Italian businesses, and promote the cultural & societal interests of the community at large. Our goal is to stimulate and encourage the development of business/professional relationships beyond the simple practice of networking. That being said, the pandemic has put our association to the test. As the CIBPA enters its 72nd year serving our community, we have demonstrated to be resilience, relevance, creativity & flexibility in this, our new normal. Our traditional networking activities & business events have gone virtual, and we've found new ways of providing our members & community valuable activities.
I am starting my new mandate as President, supporting the CIBPA and our diverse group of volunteer board members.
Over the last few years, the evolution of the CIBPA has been remarkable. This is in great part due to the leadership of our outgoing president, Domenic Diaco, and the re-energized, talented people of our board. We're experiencing the next generation of business leaders in our community shaping the CIBPA's continued growth and success.
On another note, our CIBPA Foundation, under the leadership of Mr. Sam Scalia, is responsible for the CIBPA student Bursary program. The Foundation celebrated its 60th anniversary in 2020, continues to flourish and maintain its well-established legacy of being one of the largest privately funded bursary foundations in Canada.
Please join us and support our association by becoming an individual or corporate member. Inquire about the many sponsorship & networking opportunities that we can provide to you that will expand your business & personal brand. After all, CIBPA is all about Community, Contacts, and Culture.
I hope we can count on you as a valued CIBPA member by clicking on the link: https://cibpa.wildapricot.org/