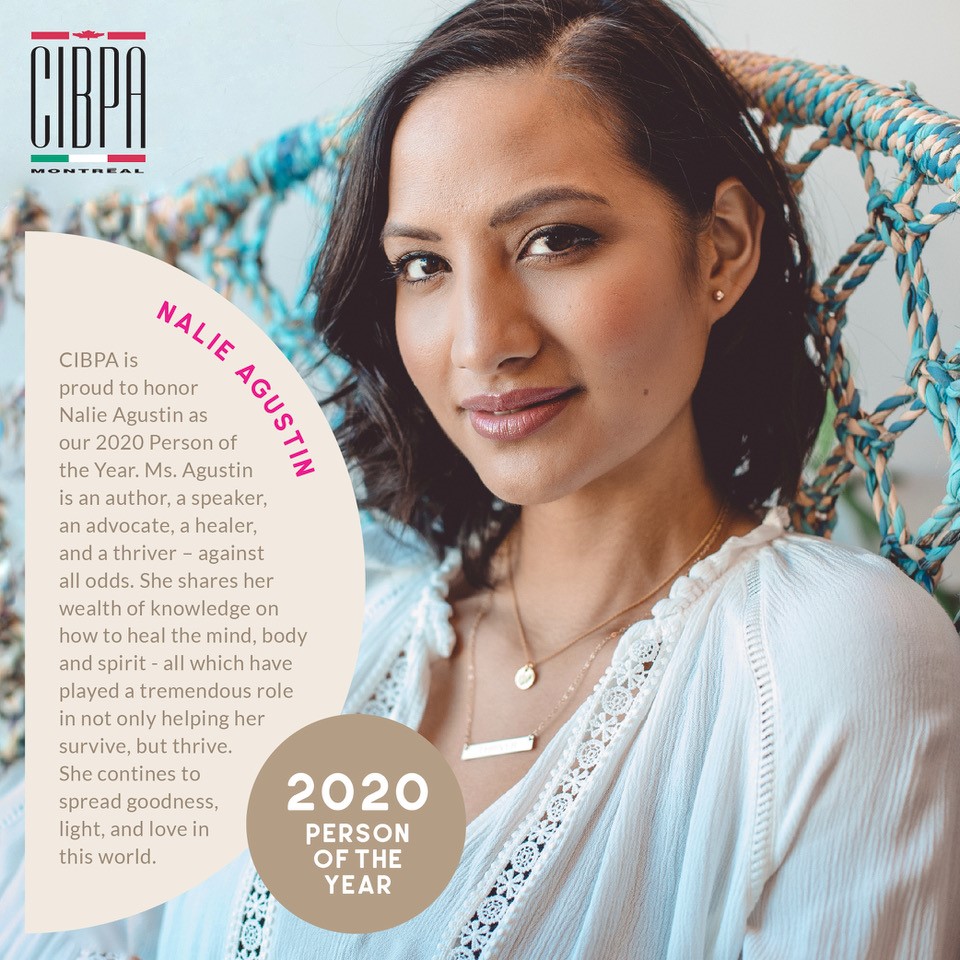 CIBPA 2020 PERSON OF THE YEAR: NALIE AGUSTIN
A Woman of Real Influence
Montreal – April 21, 2021
The Canadian-Italian Business & Professional Association (CIBPA), Montreal chapter, established the Person of the Year award in 1967. Since then, this honour is historically awarded in recognition of remarkable individuals and their philanthropic commitment in supporting their community. This special tribute allows the CIBPA to distinguish and commend individuals in their altruistic actions. This year, the CIBPA Montreal is proud to honour Nalie Agustin as our 2020 Person of the Year.
Nalie is an author, speaker and wellness advocate thriving with metastatic breast cancer. She began blogging in 2013 when she was first diagnosed with breast cancer at the age of 24. A cathartic way to get everything out in the open, during a time in which she felt alone. Since then, she has continued to chronicle her journey on both her social media platforms and her website Nalie.ca and she has since reached far and wide. Her large and loyal community of thrivers and like-minded individuals, all resonating with the same feelings toward inspiration, hope, and abundance, continue to remain by her side. Leading by example, she shares her wealth of knowledge on how to heal the mind, body and spirit – all which have played a tremendous role in not only helping her survive, but thrive against all odds.
In addition to her incredible community and powerful story, Nalie has also given a TED Talk, and spoken at various fundraisers, conferences, empowerment events, schools, and headquarters like Facebook and Instagram. Her creativity, authenticity and positive outlook have opened doors to many opportunities, including the American Cancer Society's campaign alongside celebrities like French Montana, DJ Khaled, Kristen Chenoweth and Jhene Aiko. She has been the Ambassador for the Canadian Breast Cancer Foundation for several years and is the spokesperson for her local hospital. Many of her YouTube videos have gone viral inspiring millions worldwide!
Her story has been featured in major media networks such as CTV, ET Canada, ESPN, CBC, Global News, Breakfast Television, The Gazette, Virgin Radio and many more. Her constant inspiration doesn't stop there! She was the host of self-titled show called The Nalie Show, on which she interviewed many inspiring guests and told extraordinary stories of resilience in the face of adversity. She is also the co-host of a podcast called Thriver Talks and is co-authoring a book called The Thriver's Guide, alongside co-thriver Stephanie Seban.
With all that she has learned, Nalie has now transcended into an inspirational lifestyle brand - promoting health, wellness and spirituality. Her goal is to help others reclaim their power, build resilience and live beyond boundaries.
For all these reasons and more, CIBPA could not think of an individual more deserving of the 2020 Person of The Year award.
Historically, the CIBPA acknowledges the Person of the Year through fundraising for the organization in their honor. Exceptionally this year, the Board has decided to get involved in a different way. The CIBPA, through its foundation which has supported the education of young students of Italian origin in Quebec since 1961, is awarding the Nalie Agustin Bursary to a student wishing to pursue their medical degree.
###