Sugo Sunday
July 17, 2022

The Canadian-Italian Business & Professional Association (CIBPA) is excited to announce the "Sugo Sundays" culinary series! This 3-part virtual series will be hosted by Elvio Galasso, renowned chef and professor, and Gabby Musacchio, content creator and founder of "Home with Gabby". This dynamic pair is the whole package for everything food and home! Featuring generational traditions and family recipes, seasonal tablescapes and tips on entertaining from home, this is one series that is sure to have something for everyone!
From table settings to interior decorating, cooking a formal meal to hosting a backyard barbeque, Gabby and Elvio will highlight some of the best Italian-inspired dishes using local products. Viewers will have the opportunity to learn more about the Italian-Canadian culture, as well as some of the businesses that comprise it. Our hosts will also discuss some of the challenges affecting the food industry and the emerging culinary trends post-pandemic. A cultural series with a feature on business!
Each episode of the 3-part series will be aired on the CIBPA's YouTube channel in different months (May, August, October) to reflect the seasonal changes in food and design. All episodes will be shared by the CIBPA and our hosts on their respective social media platforms, as well as promoted via some traditional media outlets.
The overall combined reach of this series will be over 20,000 followers!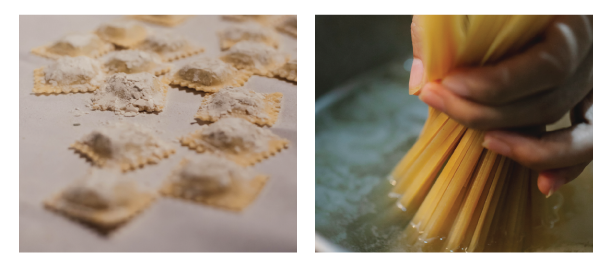 Meet the Hosts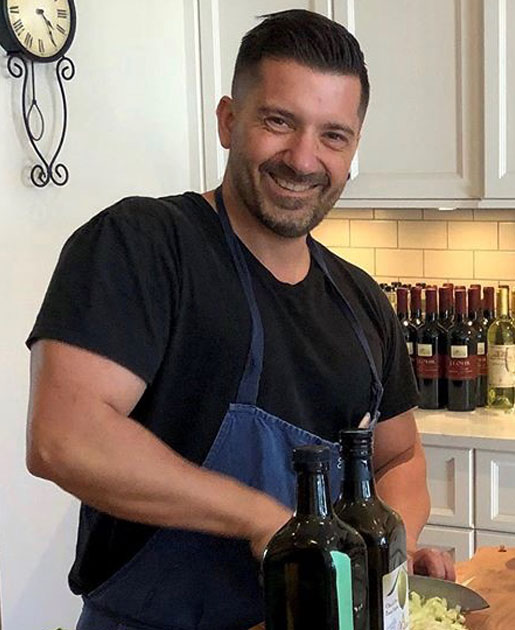 Elvio Galasso
A first generation Canadian born to Southern Italian parents, Elvio's earliest memories are of his nonna Anna's basement kitchen in St. Leonard - from eating raw cavatelli made by his great-grandmother Lucia and great-aunt Rosina, to his nonno Vincenzo's country farm that extended to two acres of garden and a small chicken and rabbit coop that he would get his eggs from.
Combining what he learned at home and a passion for food, he instinctively knew his career would revolve around food. At the age of 13, Elvio started working in reception halls and restaurants.
From 1993 to 1996, Elvio attended culinary school, enrolled in a program called Cucina Italiana. He went off to work in Northern Italy in the province of Treviso, where he learned classic northern dishes and flavours that would be new to him. Elvio made his way back to Montreal and worked in some great local restaurants before opening up his own restaurant in 2001. In 2003, he was approached by his former professor to teach at the school that had originally motivated him to dig deep into his roots to maintain and conserve his Italian traditions and culture.
Since then, Elvio has built a business catering to a great clientele and continues to enrich people with his cooking.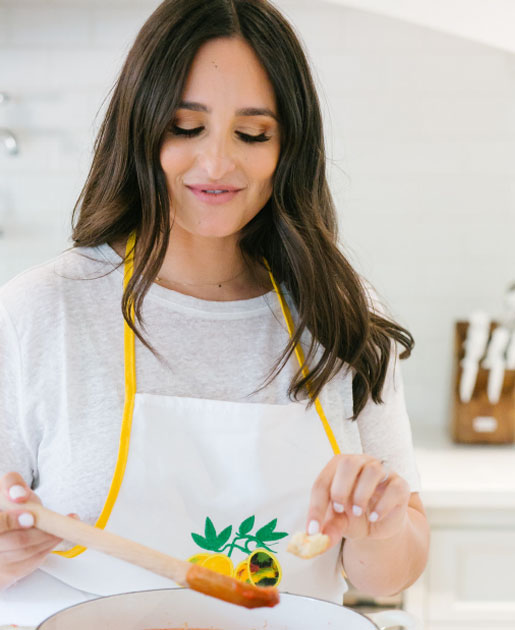 Gabby Musacchio
After completing her bachelor's degree in journalism at Concordia University, Gabby pursued her master's degree from Harvard University, majoring in print journalism, and minoring in development communications for philanthropy. She has put her experience to practice working in various fields and medias, including magazine and radio. She ultimately pivoted professionally, reserving her writing talent for passion projects.

Gabby is currently the director of communications and learnings at the Mirella & Lino Saputo Foundation - safekeeping her grandparents' heritage and legacy, through important philanthropic efforts. Her downtime and afterwork hobby of sharing her cooking and good housekeeping tips developed into a new professional pursuit and set the groundwork for "Home With Gabby", which she established in 2020.

Setting a table, arranging flowers, conceptualizing meals and celebrating the seasons are all things that Gabby thrives on. Her love for food stems from a childhood filled with time spent in the kitchen with her Nonni, learning the classics and immortalizing family favourites. She takes much pride in her Italian roots, and embraces the culture and traditions, which heavily influence the recipes she shares. Gathering friends and family in her home gives her a reason to get inspired creatively, and sharing it with others through her website and to her strong audience on Instagram, has become a joy.